Hi friends!!!! I wanted to try this since many days but was very nervous!! I started planning every move in my mind as to how should I do it to finish in 10 minutes flat!!! Thats it!! You,ve got it!!
I,m talking about the
10 Minute Craft Dash# 4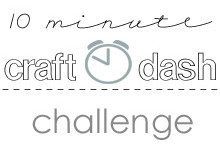 Now I would never attempt that. A card in 10 minutes and that too a CAS card!!! THIS REALLY MAKES ME NERVOUS.
But then I challenged myself. I went to their site and read and re read all the tips, gathered up my sleeves, cleared my craft table, arranged all the required things, set the timer on my mobile, closed the room so that no one disturbs, took a deep breath and STARTED...........
I finished and stopped the timer. 8 MINUTES 52 seconds!!! I DID IT!!!!! A CAS CARD AND THAT TOO WITHIN 10 minutes. You might feel----Whats so big deal about it!!! But gor someone like me who adds layers and layers on my cards, making something on just one layer and then having the feeling that it looks complete ---is a big feat for me!!! MY CARD REALLY LOOKED CAS---CLEAN AND SIMPLE AND NOT CLUTTERED AND SPOILT(my version of
CAS CARD)
But wait!! How can I say that!! Let me hear it from the experts!!! Please please tell me if this is CAS,
Supplies-Fabriano CS, stamps-Unity KOM, water colour pencils, Memento--Rich cocoa some bling.
Challenges-
10 Minute Craft Dash # 4
,
Unity Oppurtunity Blog-Christmas
,
Little Miss Muffet
Have you taken part in the
Crafters Corner Challenge# 1
? See the details here.
Happy Crafting!!!!